The Growing Season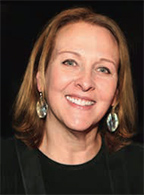 By the time this issue reaches your mailbox, it will be early March and we can almost say goodbye to winter. Many of us look forward to seeing the first early spring bulbs starting to peek out of the mud or snow. We'll think about our yards again and what plants to grow in the garden or tuck into any variety of container pots.
Our local Smart Farm leads the way in the annual QB home and garden issue. This all-volunteer gardening organization works at Barrington's largest garden and is the most prolific local producer of fresh vegetables. Started by Kathy Gabelman 10 years ago, the "farm" began as a small patch of land behind the soccer fields of Ron Beese Park, then moved to the grounds up behind Advocate Good Shepherd Hospital. They are now situated on the western grounds of the hospital with a much larger space and a jointly shared office with Mindful Waste, a partner group. Today, Smart Farm grows and donates close to 8 tons, or 16,000 pounds, of produce each year (most of it being donated to local food banks) and teaches workshops for children and adults, as well as hosting a harvest-time, farm-to-table fundraising dinner with local chefs who spread the word about the importance of fresh, local food (pictured on our cover!).
One of the unique types of home properties in the Barrington area are those with barns. Some barns are very old, some have only remnants like a standalone silo, and others are state-of-the-art equestrian epicenters. In the Barn Tour feature, you'll get a glimpse into three barns whose owners graciously hosted guests on a tour last fall. This annual event is sponsored by The Riding Club of Barrington Hills each year.
Take a step inside a former Barrington Hills estate, one that includes architecture by David Alder and Robert Work, that was once a stately home, and is now the Bellarmine Jesuit Retreat House. Most people drive by the Bellarmine sign just west of Hart Road along County Line Road, having no idea what is down that long driveway to the south. Well, we hope to change that with a feature by Barbara Benson. If you need a place to truly unplug, consider Bellarmine as a place to quiet the outer and inner world you live in.
We have some interesting stories and more home and garden topics for you in the pages ahead. And of course, lots of great photography. Thanks go to our loyal advertisers who have many fine products and services to offer you now, and all year long.
- - - - - -
Feature Update: A recounting of my trip to England will appear in the May/June 2019 issue. I'll share my photos of places like this, Highclere Castle (home of Downton Abbey) and other locations where many beloved British television shows are filmed.